Health care, aptitude diagnosis, alcohol check
Medical examination
We try for health care of crew by conduct such as promotion of treatment by medical examination, SAS (sleep apnea syndrome) inspection and test result, stress check.
Driving aptitude diagnosis
As for the crew, premeditated; receive driving aptitude diagnosis regularly. In addition, we perform instruction by service manager and, based on this consultation result (driving properties), try for safe service.
Roll call and alcohol check
Crew receives roll call by service manager (adjunct) before and after service by all means. In roll call, we order service contents, instructions of the day and, also, confirm health condition of crew. In addition, service manager (adjunct) is resident during bus service by all means in jurisdiction office and performs grasp, confirmation of service.
Crew performs alcohol check at the time of roll call by all means and operates the day after service manager (adjunct) confirms check contents.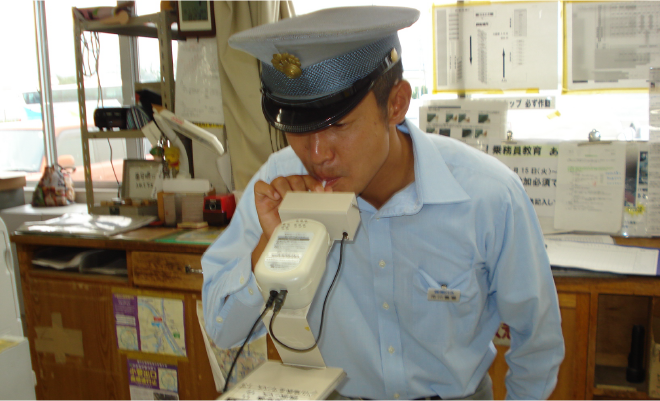 Approach of accident prevention of one labor and management
Our company sets up workplace accident prevention Committee by representative of staff people and crew. Hold committee meeting every three months, and plan the establishment and promotion of grasp, resemblance accident recurrence preventive measures of accident cause, of accident act to preventing.
Commendation system without an accident
We establish driving no accident commendation system as model of crew engaged in public transport business from thought, "ensuring safety of transportation is the most important". We hold commendation ceremony on the company anniversary of the founding, and certificate of merit, souvenir is conferred from the cause, president of attendance of officer, department/section managers directly and praises the honor every year.
Road safety and bus how to get on classroom
We hold road safety and bus how to get on lesson for primary schoolchildren in cooperation with the local government, jurisdiction police station along the line and follow manner, road safety and accident prevention in basic how to get on, inside of car of bus.