Employee education
Crew
We carry out education depending on each category from (the first designation driver education) at the time of new hiring and try for safe service.
The first designation driver education, the first designation driver flow up education, all crew group trainings, driver car model change education, driver transfer education, winter mountain transportation special education, person of accident creation education, the post driver training
We divide education contents into lecture and practical skill and set curriculum corresponding to each division. (by the first designation driver education as for the lecture as for 33 hours, the practical skill at least 202 hours)
In addition, we carry out education using Drive recorder record.
The dispatch training to safe driving center training institute
Led by post driver, we attend the training based on more substantial facilities and curriculum.
Make conducting tour instruction and street instruction system to enhance the effectiveness of various education, premeditated; instruct regularly.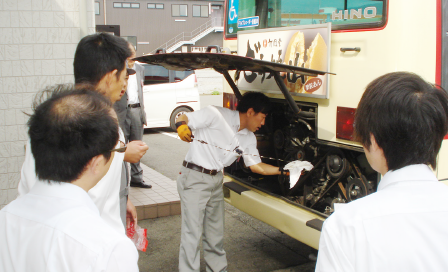 Service manager
We carry out the service manager training premeditatedly and plan improvement of service management and instruction and try for safety management.
The maintenance-related staff
We carry out the person of maintenance chief training premeditatedly and we hold study session mainly on new technology relations every month and act for improvement of technology.