How to get on Route bus guidance
When he/she gets on
1.Please take than middle (the rear) door of bus
Please do not approach bus until bus completely stops even if bus arrives.
Destination is displayed by the front, the side of bus. You confirm destination, and please take.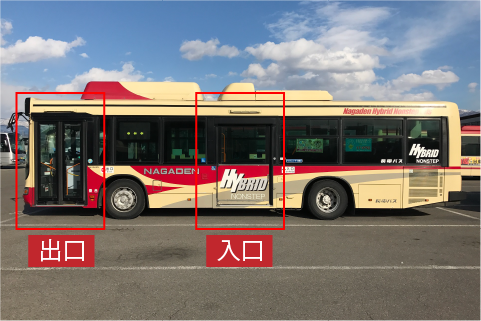 2.From issuance machine in entrance, take rearranging ticket by one piece per person.
Customer of the use, please touch reading machine by card in chip card "kururu".


(other companies chip card except "kururu" is not available)

Person of ride take rearranging ticket in train bus transit commuter pass, too.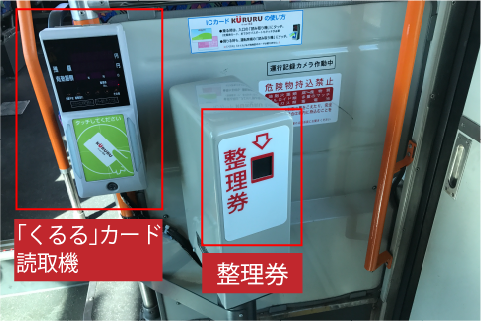 3.Fare is deferred payment.
Request in the car
Please be careful to round rearranging ticket during ride, and not to lose.
Please sit down early in seat of neighborhood if you take.
As movement running is very dangerous, you are not expected.
We would like exchange, the receipt of money to chip card during bus stop.
When there is not vacant seat, please hold onto grip stick, strap by all means.


(please cooperate with accident prevention in the car)

From window face hope that do not start the fight.
In the inside of car, cell-phone sets in silent mode, and please refrain from call.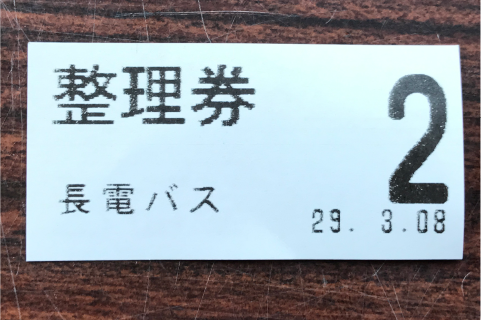 Method that falls
1.If falling bus stop is announced, please push "getting off button".
Chime sounds when we push getting off button, and crew can confirm that there is customer going down.
In addition, guidance of "it stops next time" is broadcasted.
Please stand at seat after bus stopped.
2.Please prepare for fare displayed by fare indicator of number same as rearranging ticket at hand.
There is fare indicator the inside of car ahead.
It is adult fare that we are displayed. Children fare is half price of adult fare.
(fraction is raising to 10 yen unit.)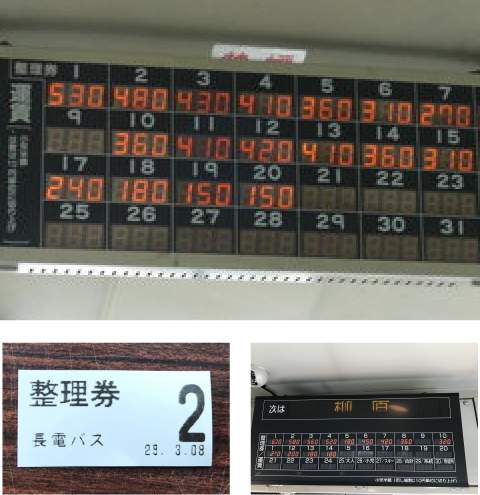 3.Please put rearranging ticket and displayed fare into fare box.
Change is not paid.
Changemaker supports thousand-yen bill, 500.100.50 yen coin.
We cannot change large denomination bill.
Money of exchange is limited. Please prepare small change if possible.
In the case of coupon, it is similar to cash.
About line that can use coupon, please ask the nearest office.
Customer of the use, please touch reading machine in chip card "kururu".
※When the charge remainder is not enough, we can charge more on the spot. (only as for the 1,000 yen unit)
Customer using train bus transit commuter pass puts rearranging ticket in the fare box, and show commuter pass to crew clearly.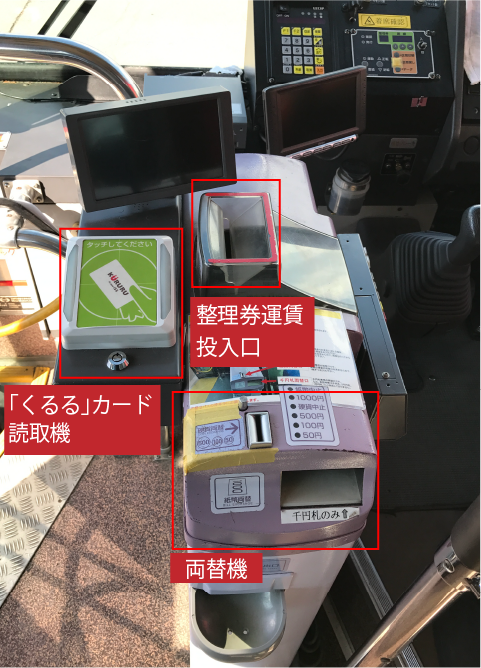 4.We appreciate your using
You watch your step, and please go down