Expressway bus Nagano - Kyoto, Osaka, Kobe fare table
Fare calendar
September, 2020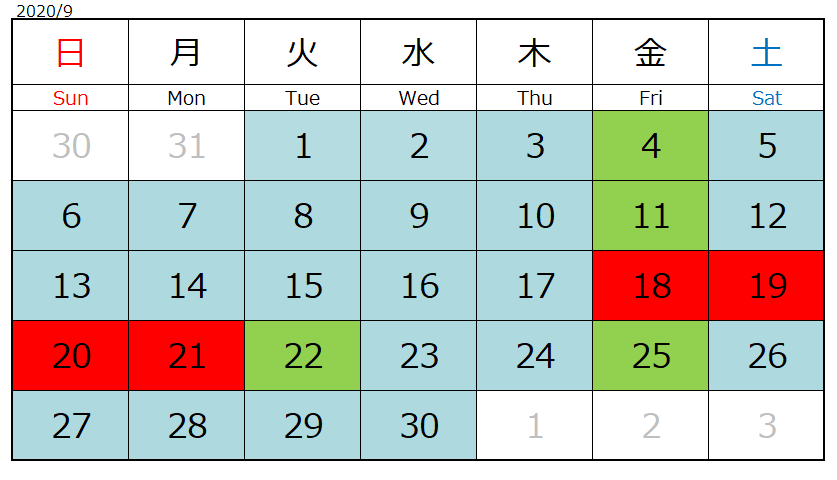 October, 2020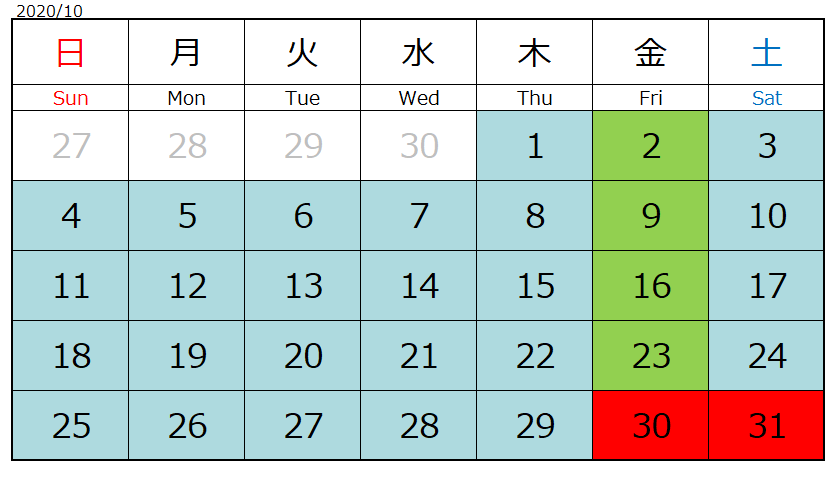 … S fare (the most busy season)
… A fare (tsujoki)
… B fare/early reservation discount 14 (off-season)
Nagano - Osaka Line is three lines of independence sheet car.
The inside of car is non-smoking. Please refrain from cigarette.
Please refrain from call after setting in silent mode in other customers coming to trouble call with cell-phone in the car.
Nagano - Osaka Line is joint service with Nankai bus.
S fare (the most busy season)
| | Sannomiya BT | Port town BT/ Nankai Namba high speed BT/ Osaka Stn. Mae | Kyoto Station Hachijo Exit |
| --- | --- | --- | --- |
| Oginoya Nagano-ten, Nagano Stn. mae, Gondo | 8,000 | 7,600 | 7,100 |
| Suzaka Stn., Obuse | 8,100 | 7,700 | 7,200 |
| Shinshu-Nakano Station, Yudanaka Stn. | 8,500 | 8,100 | 7,600 |
| Iiyama Stn., Nozawa onsen | 8,900 | 8,500 | 8,000 |
Oginoya Nagano-ten, Nagano Stn. mae, Gondo

| | |
| --- | --- |
| Sannomiya BT | 8,000 |
| Port town BT/ Nankai Namba high speed BT/ Osaka Stn. Mae | 7,600 |
| Kyoto Station Hachijo Exit | 7,100 |
Suzaka Stn., Obuse

| | |
| --- | --- |
| Sannomiya BT | 8,100 |
| Port town BT/ Nankai Namba high speed BT/ Osaka Stn. Mae | 7,700 |
| Kyoto Station Hachijo Exit | 7,200 |
Shinshu-Nakano Station, Yudanaka Stn.

| | |
| --- | --- |
| Sannomiya BT | 8,500 |
| Port town BT/ Nankai Namba high speed BT/ Osaka Stn. Mae | 8,100 |
| Kyoto Station Hachijo Exit | 7,600 |
Iiyama Stn., Nozawa onsen

| | |
| --- | --- |
| Sannomiya BT | 8,900 |
| Port town BT/ Nankai Namba high speed BT/ Osaka Stn. Mae | 8,500 |
| Kyoto Station Hachijo Exit | 8,000 |
BT: Abbreviation of Bus terminal
A fare (tsujoki)
| | Sannomiya BT | Port town BT/ Nankai Namba high speed BT/ Osaka Stn. Mae | Kyoto Station Hachijo Exit |
| --- | --- | --- | --- |
| Oginoya Nagano-ten, Nagano Stn. mae, Gondo | 7,500 | 7,100 | 6,600 |
| Suzaka Stn., Obuse | 7,600 | 7,200 | 6,700 |
| Shinshu-Nakano Station, Yudanaka Stn. | 8,000 | 7,600 | 7,100 |
| Iiyama Stn., Nozawa onsen | 8,400 | 8,000 | 7,500 |
Oginoya Nagano-ten, Nagano Stn. mae, Gondo

| | |
| --- | --- |
| Sannomiya BT | 7,500 |
| Port town BT/ Nankai Namba high speed BT/ Osaka Stn. Mae | 7,100 |
| Kyoto Station Hachijo Exit | 6,600 |
Suzaka Stn., Obuse

| | |
| --- | --- |
| Sannomiya BT | 7,600 |
| Port town BT/ Nankai Namba high speed BT/ Osaka Stn. Mae | 7,200 |
| Kyoto Station Hachijo Exit | 6,700 |
Shinshu-Nakano Station, Yudanaka Stn.

| | |
| --- | --- |
| Sannomiya BT | 8,000 |
| Port town BT/ Nankai Namba high speed BT/ Osaka Stn. Mae | 7,600 |
| Kyoto Station Hachijo Exit | 7,100 |
Iiyama Stn., Nozawa onsen

| | |
| --- | --- |
| Sannomiya BT | 8,400 |
| Port town BT/ Nankai Namba high speed BT/ Osaka Stn. Mae | 8,000 |
| Kyoto Station Hachijo Exit | 7,500 |
BT: Abbreviation of Bus terminal
B fare (off-season)
| | Sannomiya BT | Port town BT/ Nankai Namba high speed BT/ Osaka Stn. Mae | Kyoto Station Hachijo Exit |
| --- | --- | --- | --- |
| Oginoya Nagano-ten, Nagano Stn. mae, Gondo | 6,900 | 6,500 | 6,000 |
| Suzaka Stn., Obuse | 7,100 | 6,700 | 6,200 |
| Shinshu-Nakano Station, Yudanaka Stn. | 7,500 | 7,100 | 6,600 |
| Iiyama Stn., Nozawa onsen | 7,900 | 7,500 | 7,000 |
Oginoya Nagano-ten, Nagano Stn. mae, Gondo

| | |
| --- | --- |
| Sannomiya BT | 6,900 |
| Port town BT/ Nankai Namba high speed BT/ Osaka Stn. Mae | 6,500 |
| Kyoto Station Hachijo Exit | 6,000 |
Suzaka Stn., Obuse

| | |
| --- | --- |
| Sannomiya BT | 7,100 |
| Port town BT/ Nankai Namba high speed BT/ Osaka Stn. Mae | 6,700 |
| Kyoto Station Hachijo Exit | 6,200 |
Shinshu-Nakano Station, Yudanaka Stn.

| | |
| --- | --- |
| Sannomiya BT | 7,500 |
| Port town BT/ Nankai Namba high speed BT/ Osaka Stn. Mae | 7,100 |
| Kyoto Station Hachijo Exit | 6,600 |
Iiyama Stn., Nozawa onsen

| | |
| --- | --- |
| Sannomiya BT | 7,900 |
| Port town BT/ Nankai Namba high speed BT/ Osaka Stn. Mae | 7,500 |
| Kyoto Station Hachijo Exit | 7,000 |
BT: Abbreviation of Bus terminal
Early reservation discount 14 (off-season)
| | Sannomiya BT | Port town BT/ Nankai Namba high speed BT/ Osaka Stn. Mae | Kyoto Station Hachijo Exit |
| --- | --- | --- | --- |
| Oginoya Nagano-ten, Nagano Stn. mae, Gondo | 5,960 | 5,560 | 5,060 |
| Suzaka Stn., Obuse | 6,160 | 5,760 | 5,260 |
| Shinshu-Nakano Station, Iiyama Stn., Yudanaka Stn. | 6,560 | 6,160 | 5,660 |
| Iiyama Stn., Nozawa onsen | 6,960 | 6,560 | 6,060 |
Oginoya Nagano-ten, Nagano Stn. mae, Gondo

| | |
| --- | --- |
| Sannomiya BT | 5,960 |
| Port town BT/ Nankai Namba high speed BT/ Osaka Stn. Mae | 5,560 |
| Kyoto Station Hachijo Exit | 5,060 |
Suzaka Stn., Obuse

| | |
| --- | --- |
| Sannomiya BT | 6,160 |
| Port town BT/ Nankai Namba high speed BT/ Osaka Stn. Mae | 5,760 |
| Kyoto Station Hachijo Exit | 5,260 |
Shinshu-Nakano Station, Iiyama Stn., Yudanaka Stn.

| | |
| --- | --- |
| Sannomiya BT | 6,560 |
| Port town BT/ Nankai Namba high speed BT/ Osaka Stn. Mae | 6,160 |
| Kyoto Station Hachijo Exit | 5,660 |
Iiyama Stn., Nozawa onsen

| | |
| --- | --- |
| Sannomiya BT | 6,960 |
| Port town BT/ Nankai Namba high speed BT/ Osaka Stn. Mae | 6,560 |
| Kyoto Station Hachijo Exit | 6,060 |
BT: Abbreviation of Bus terminal
※On service day, fare fluctuates by flight. Please confirm in Web site.
※Children fare, person with a physical disability fare is half price of one-way fare.
※When we purchase ticket up to 14 days before on B fare setting day, early reservation discount 14 becomes about 14% of discount. (only adult rate applies to early reservation discount 14 with a limitation of the number of the seats. In addition, we cannot change ticket)