Nagano city area bus "Gururin-go"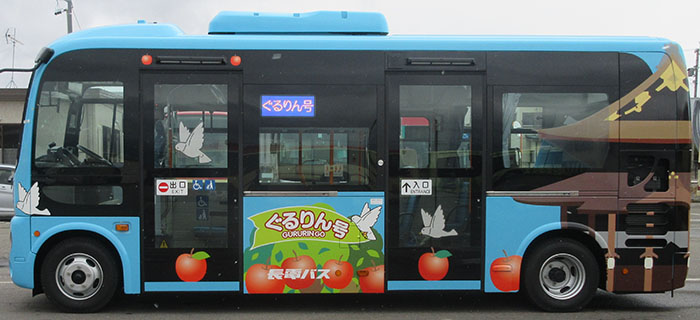 Movement of city area, please use "Gururin-go"
"Gururin-go" is Loop-route bus going around central city area that public facilities and commercial facilities accumulate including Zenkoji starting from Nagano Stn. It travels every day and is bus which is convenient at all as bus comes every 15 minutes without taking a rest on rest Sundays and holidays.
Please use "Gururin-go" with much charm.
Fare
| | |
| --- | --- |
| Adult | 150 yen |
| Primary schoolchild | 80 yen |
| Outing passport user | 110 yen |
※We cannot take in Route bus commuter pass.
Timetable, service time
It travels all year
Nagano Stn. first train 9:35
18:50 at the Nagano Stn. last
We leave every 15 minutes, and all we take the turn for 30 minutes.
... that free transit is possible in ... terminal "Nagano Stn."
"Nagano Stn." is terminal. When we use "Gururin-go" sequentially, only for less than 20 minutes, we can pass through free.
As we issue "transfer ticket" at the time of getting off, as for the person using, please let crew know.
When we take bus of transit, we take without being involved in chip card "KURURU" (kururu), and I would like transit ticket at the time of getting off in fare box.
The regular route